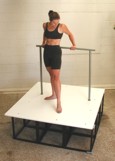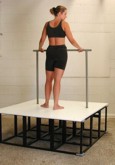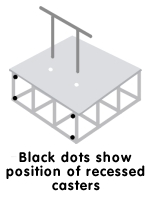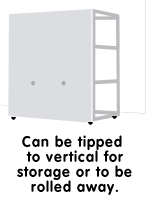 Model Stand "Rose III" MS60x60x20

Description:Nine 20" x 20" x 20" hollow MuleCubes are permanently welded together to form the 'bundled-tube' framework measuring, overall, 60"W x 60"D x 20H"; with 3/4" High Pressure Laminate single piece platform surface; 25 square feet of elevated floor space, held aloft over the airy, hollow, square steel framework. Rose III is easily nudged and scooted over the floor, without being lifted because it is isolated from the floor by a fixed array of twenty 1/2" thick, extremely low friction, poly-glides; this stand also includes a set of four commercial duty, neoprene wheel, ball-bearing swivel casters, recessed and permanently mounted on one of the 20" x 60" sides such that when tipped upwards to a vertical position, it can be easily rolled from room-to-room, passed through doorways, etc.; also comes with protective bumpers on all four corners. This package includes, detachable Model's Handrail 37" ht on 36" centers with hardened steel pins that slip into two matching MagnumSockets. Product shipped fully assembled, ready to use.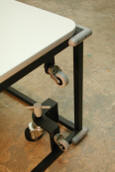 For the ultimate in freedom of movement, consider specifying our retractable 'landing gear' caster option with your order. Four heavy duty casters, one in each downside corner of the 60 x 60" footprint, screw down to elevate the framework just above the floor—thus allowing easy rotational movement with a model on the platform. The net effect is a kind of 'lazy susan' motion of the Model Stand which allows students in different areas of the classroom to see the same pose from alternate views.